Title: Crystal Crowned
Author: Elise Kova
Series: Air Awakens #5
Release date: July 12th 2016
Goodreads Synopsis: 
Long live Solaris.
One bloodthirsty ruler has been overthrown by another, casting the shadow of death over the Solaris Empire. Vhalla Yarl stands upon the stage of fate, prepared to do battle one final time. Fragile alliances will be tested and new bonds will be formed as the world is reshaped. She fights as the champion of peace, but when the night is darkest will she be able to pay the price of a new dawn?
Preorder it here: Ibooks  | Amazon |
---
And now we're down to the last installment of the Air Awakens Series *sobs* Tbh, I am torn between wanting to read it the soonest or stalling it just so it wouldn't end, yet. This series has given an amazing roller coaster ride and I am so recommending this to you, my fellow readers!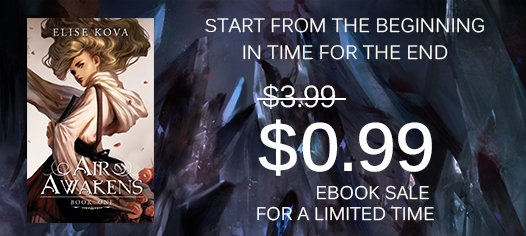 Elise is having an ebook sale, now's your chance to grab your copy and join the Air Awakens fandom! You can get the eBook of Air Awakens on the following retailers:Amazon | iBooks | B&N | Google Play | Kobo