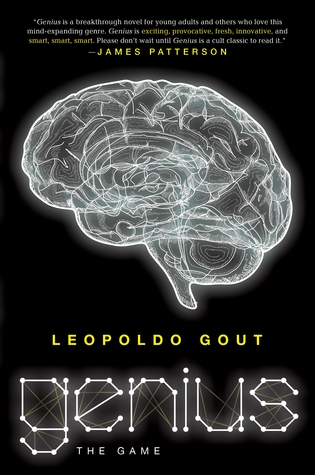 Title: Genius: The Game
Author: Leopoldo Gout
Genre:  Young Adult, Thriller, Science Fiction
Publication date: May 3rd 2016
Publisher: Feiwel & Friends
Goodreads Synopsis:  Trust no one. Every camera is an eye. Every microphone an ear. Find me and we can stop him together.
The Game: Get ready for Zero Hour as 200 geniuses from around the world go head to head in a competition hand-devised by India's youngest CEO and visionary.
The Players: Rex– One of the best programmers/hackers in the world, this 16-year-old Mexican-American is determined to find his missing brother.
Tunde-This 14-year-old self-taught engineering genius has drawn the attention of a ruthless military warlord by single-handedly bringing electricity and internet to his small Nigerian village.
Painted Wolf-One of China's most respected activist bloggers, this mysterious 16-year-old is being pulled into the spotlight by her father's new deal with a corrupt Chinese official.
The Stakes: Are higher than you can imagine. Like life and death. Welcome to the revolution. And get ready to run
Buy links: Amazon | Barnes & Nobles | Book Depository
---
GUEST POST
Tell me about a movie that started a passion for you. 
Movies are integral to my creative process and development. I came to America as a visual artist in the early '00s. As luck would have it, David Byrne, an artist and musician (he led the Talking Heads), saw one of my shows at Tricia Collins Contemporary Art in New York City. He connected with the outlandish drawings, sculptures, photos, and experimental videos I was making (some were collaborations with my younger brother, Everardo Gout) and he gave us our first gig, an experimental music video with his record label, Luaka Bop.
That led to us developing, directing, and producing videos and commercials for artists like Mos Def, Wyclef Jean, Morcheeba, etc. It was a wonderful kind of film school. We shot little stories all over the world – from Cuba to Vietnam. I loved every minute of it and it lead directly to my working in film and television today.
Truth is, my brother and I come from a rich background in cinema. We've always been surrounded by it. Our family friends were filmmakers like the Buñuels, who lived near my home in Mexico City. My brother caught the directing bug at a very early age, and was able to work professionally with directors like Baz Luhrmann (1996's Romeo + Juliet). Baz is a family friend and mentor to this day.
For me personally, my love for the cinema started when my mom took me to see Raiders of The Lost Ark and Star Wars: A New Hope. I exploded like a TNT filled piñata. Watching those movies was such a transformative experience. They not only inspired me to dive into creating moving images myself but they also directly influence the books I write and the art that I create. For my generation, the sight of Darth Vader entering the captured Rebel space ship is akin to seeing Mount Rushmore for the first time.
It wasn't just the story I identified with. For me, A New Hope offered a vital world of design and style. I was so passionate about science fiction that I was almost expelled from my elementary school in Mexico City because I obsessively drew Darth Vader's belt and helmet. My artistic skills weren't as honed as they are today and my teachers sent me to the principal after they misinterpreted the "belt" as being something rather inappropriate for school… My very cool mom quickly pulled me from that silly place.
Recently, I produced a film with James Patterson and Bill Robinson called Middle School: The Worst Years of My Life (it's based on one of Patterson's book series) that revolves around an artist looking for a creative outlet. Sounds familiar, right?
Raiders was an even more personal experience for me because I grew up in a family filled with amazing stories of adventure. My parents had friends who were explorers! They'd traversed the Amazon and trekked through Tibet. Hearing stories of all these wild and exotic places made me thirsty to get out into the world and meet its many inhabitants. For me cinema tells those same sorts of stories. It opens us up to the exciting and dangerous world surrounding us.
What movies could you watch over and over and never get tired of?
Star Wars: A New Hope
Indiana Jones and the Raiders of the Lost Ark
Un Prophete by Jacques Audiard
The Big Lebowski by Joel and Ethan Coen
The Godfather by Francis Ford Coppola
Days of Grace by Everardo Valerio Gout (my brother)
---
About the Author:
Leopoldo Gout is the producer behind many films including Days of Grace, which A.O. Scott of the New York Times called "a potent and vigorous film." He is also a writer, artist, and filmmaker. Leopoldo is currently involved in various film and television projects including major adaptations of the Alex Cross series, with the author James Patterson and the upcoming film adaption of Middle School: The Worst Years of My Life.
---
___ ___ ___ ___ ___ ___ ___ ___ ___ ___ ___ ___ ___ ___ ___ ___. ___, ___ ___ ___ ___ ___ ___, ___ ___, "___ ___ ___ ___, ___ ___. ___ ___ ___ ___ ___ ___ ___ ___ ___ our default ___ ___ ___ ___ ___ ___ ___ ___ ___ ___ ___ ___ ___ ___ ___."
---
GIVEAWAY!!!
Get a chance to win a copy of Genius: The Game (US Only)