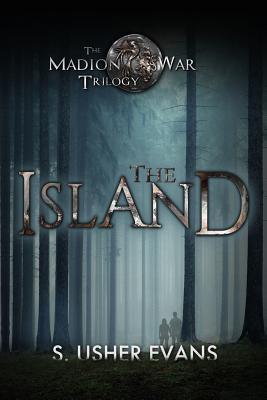 Title: The Island
Author: S. Usher Evans
Series: The Madion War #1
Genre: Young Adult, Fantasy
Goodreads Synopsis:
Prince Galian is third in line to the throne, but prefers his place as a resident at the Royal Kylaen Hospital. When his father urges him to join the military to help reclaim their colony, Galian is forced to put aside his oath to Do No Harm and fight a war he does not believe in.
   
   Across the great Madion Sea, Captain Theo Kallistrate dreams of a day when she is no longer bound by conscription to fight for her country's independence. But when the Kylaens threaten, honor and duty call her to the front lines to fight off the oppressors.
   
   When an air skirmish goes wrong, both Theo and Galian crash on a remote island hundreds of miles from either nation. Grievously injured, Theo must rely on Galian's medical expertise, and Galian must rely on Theo's survival skills, to live another day in a harsh and unforgiving terrain.
   
   Can they put aside their differences long enough to survive? Or will the war that brought them to the island tear them apart?
EXCERPT:
I tore my eyes away from him and stared at the spot where the wolf had been, my heart still beating out of my chest. I was aware of the princeling walking over to me, but I didn't want him to be a party to my reacquaintance with my own mortality.
He didn't seem to get the message, standing too close to me and then bending down to get a better look at me. He stood back up and looked at his flare gun as he reloaded it nonchalantly.
Only got one left.
"That's it?" I snapped, expecting him to say something else, although I wasn't sure why I expected it or what I needed him to say.
He blinked in confusion. "What's it?"
"You saved my life," I blurted. "Twice…" I looked up at the sky in shock. "Why?"
"I have no idea." He shrugged."Maybe I'm just a decent human being. And maybe I don't want to be stuck here on this island by myself."
I swallowed.
"C'mon," he approached me and offered his hand. "We need to stay close to camp. I can carry you back."
But I wouldn't move, I just kept staring at him.
"Theo?"
"You've saved my life twice now," I said, looking up at him. "And I hate being in Kylaen debt. So I…we need to make it even. Or at least…more even…"
"Wow," he said with a barking laugh. "Well, then, I guess you'll have to tell me some deep, dark Rave state secret."
He was clearly being sarcastic, but I didn't care. I needed to level things out now. Raven tradition dictated it; soldiers always wanted to be nice, or square.
After a moment, I replied with the only state secret I knew: "Theophilia."
"What?"
"My full name is Theophilia Kallistrate."
"Theophilia Kallistrate, hm?" he rumbled, rubbing his chin. "So I save your life twice and you tell me your real name?" He paused. "Seems fair."
I folded my arms across my chest. "Well, if the opportunity presents itself for me to save your life," I allowed myself to smile at him, "I shall return the favor."
"How about you start with letting me carry you back to camp?"
About the Author:
Usher Evans is an author, blogger, and witty banter aficionado. Born in Pensacola, Florida,
she left the sleepy town behind for the fast-paced world of Washington, D.C.. There, she somehow landed jobs with BBC, Discovery Channel, and National Geographic Television before finally settling into a "real job" as an IT consultant. After a quarter life crisis at age 27, she decided consulting was for the birds and rekindled a childhood passion for writing novels.
She sold everything she owned and moved back to Pensacola, where she currently resides with her two dogs, Zoe and Mr. Biscuit. Evans is the author of the Razia series and Empath, both published by Sun's Golden Ray Publishing.
Author's Link: Website |  Twitter | Goodreads