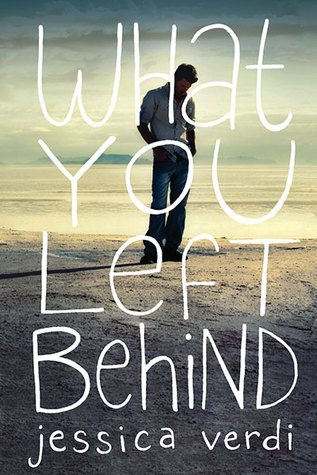 Title: WhatYou Left Behind
Author: Jessica Verdi
Published date: August 4th 2015
Publisher: Sourcebooks
Goodreads Synopsis: It's all Ryden's fault. If he hadn't gotten Meg pregnant, she would have never stopped her chemo treatments and would still be alive.
Instead, he's failing fatherhood one dirty diaper at a time. And it's not like he's had time to grieve while struggling to care for their infant daughter, start his senior year, and earn the soccer scholarship he needs to go to college.
The one person who makes Ryden feel like his old self is Joni. She's fun and energetic—and doesn't know he has a baby. But the more time they spend together, the harder it becomes to keep his two worlds separate. Finding one of Meg's journals only stirs up old emotions, and Ryden's convinced Meg left other notebooks for him to find, some message to help his new life make sense. But how is he going to have a future if he can't let go of the past?
---
** Disclaimer: I have received an ecopy of this book from the publisher via Netgalley in exchange for an honest review**
AJ says: It's pretty rare to have a male narrator all throughout the story. I actually wasn't expecting to be emotionally involved with the story because honestly, there were times that I'm really having a hard time relating to male narrators, but Verdi manages to make it realistic and emotionally relatable that you could actually feel his pain (especially with those Meg's notebooks/diary scenes!) and happiness.
I'd say that the past Ryden Brooks is a perfect example of a normal teen but somehow along the way got caught in a messy situation and leads to him, becoming a teen father. This story is about how Ryden was able to pull himself together despite having a hard time balancing school, work and being a father to Hope.
I personally like Joni's bubbly character And I'm definitely shipping Ryden and Joni. I love that it's not some insta-love that usually happens with this kind of story. The timing of the bloom of romance in this story is perfect. Verdi was able to make it look natural and not rushed.
AJ's rating: I gave this book a 4.5 out of 5 stars. A contemporary that is emotionally engaging and would make you shed a tear or two.