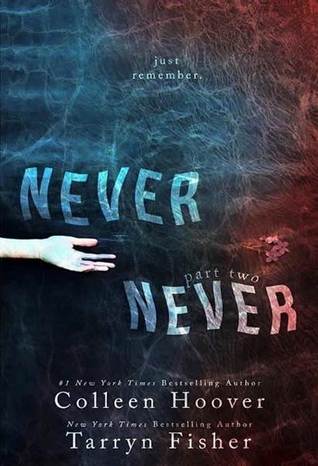 Title: Never Never Part Two
Author(s): Colleen Hoover & Tarryn Fisher
Series: Never Never #2
Published date: May 17th 2015
Goodreads Synopsis: 
"Never forget that I was your first real kiss. Never forget that you'll be my last.
And never stop loving me between all of them.
Never stop, Charlie.
Never forget."
Silas races against time as more truths unravel, while others twist tighter together. And now, the stakes are higher as Silas' control slips and others begin to point fingers. Charlie is in trouble and he must be the one to bridge the chasm between their past and their present. Because somewhere between I love yous and Never Nevers and Never Agains, a truth they can't imagine, beckons to be found.
"Where are you, Charlie?"
---
AJ says:  I have exactly the same reaction after I've finished part one and part two of this series that is shown on the gif below.
Basically I could say that part one or book one is just a mere introduction of what to expect and a brief explanation of the story. While part two, is where they are solving the mystery and trying to find and put all of the clues to complete the puzzle.
Anyhow, even apart the chemistry between Silas and Charlie is still, and I seriously loved the flashbacks from the letters that they were both writing to each other when they're still a couple. *sigh* I couldn't wait to know how their story would end.
Some of the questions left on the first part were answered on this book but will only lead you to more unanswered questions that will make you want to bawl. I am particularly intrigue about Charlie's previous house, and I am so excited to unravel the mystery behind it! Ohhghad. The only good thing about this book is that in this book it's written on Silas' point of view whilst the first part was Charlie's, does that mean that part three will be both of their POVs?
Nevertheless, I love this book and I can't wait to get my hands onto the next book. I can't wait to complete the whole picture and to know the story behind those occurrences. And I seriously loved both Tarryn and Colleen but with this much of cliffhangers, it's taking a ton of effort to hate them even a slightest bit.