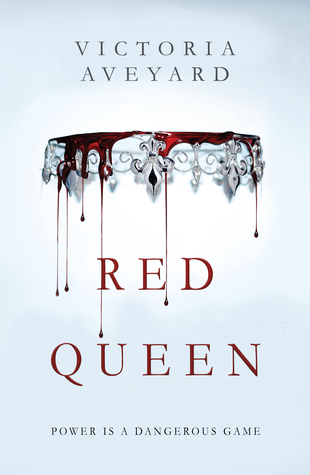 Title: Red Queen
Author: Victoria Aveyard
Series: Red Queen #1
Published date: February 10th 2015
Published by: Orion
Goodreads synopsis:
This is a world divided by blood – red or silver.
The Reds are commoners, ruled by a Silver elite in possession of god-like superpowers. And to Mare Barrow, a seventeen-year-old Red girl from the poverty-stricken Stilts, it seems like nothing will ever change.
That is, until she finds herself working in the Silver Palace. Here, surrounded by the people she hates the most, Mare discovers that, despite her red blood, she possesses a deadly power of her own. One that threatens to destroy the balance of power.
Fearful of Mare's potential, the Silvers hide her in plain view, declaring her a long-lost Silver princess, now engaged to a Silver prince. Despite knowing that one misstep would mean her death, Mare works silently to help the Red Guard, a militant resistance group, and bring down the Silver regime.
But this is a world of betrayal and lies, and Mare has entered a dangerous dance – Reds against Silvers, prince against prince, and Mare against her own heart…
---
AJ says:  Red Queen is a world where caste system exist and it's decided by blood (blood colors to be exact) — Silver & Red. The Silvers are part of the upper class bloodline and they have a god-like superpowers. Reds are what we call norms or simply commoners ruled by the Silvers. And there were some which does not fall into the category of just Silver and Red, they're silver & red but stronger than both, one of them is our heroine Mare Barrow.
Ever since this book is released I've been seeing it a lot on my timeline, the synopsis piqued my interest but I made no attempt on reading it. Maybe because I'm still not in a mood to read this kind of book again. But when my bestfriend finished it and said that I would definitely like it, I decided to give this book a shot. And I'm glad that I did, because i didn't just liked the book I loved it.
I'd say that Red Queen is a dystopian novel where The Selection series meets The Hunger Games and somehow got tangled up with Divergent but Graveyard still has her own way of writing her world of which would make you addicted and trapped up to the end.
As for the characters, tbh Cal's the only character that I liked from the start up to the end. I hate Maven (and her mother!) to the bones, he reminds me of Joffrey Baratheon from Game of Thrones and I don't want him to die a painless death, there was a gore scene playing in my head for his death. There were times that I actually get annoyed with Mare for being too impulsive, emotional and trusting even when all this time Julian is always telling her that anyone can betray anyone. But I'm looking forward to see her developments in the next book.
Also, I couldn't wait to see what would happen next and a bit curious of what abilities does others like Mare have. And what action would the Scarlet Guard to next and seeing more of Shade on the next book.
AJ's rating: If you're a dystopian fan this book is definitely the one for you! 5 out of 5 stars!!
---