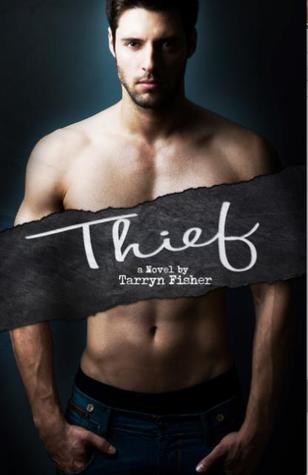 Title: Thief
Author: Tarryn Fisher
Series: Love Me with Lies #3
Published date: August 8th 2013
Publisher: CreateSpace
Goodreads Synopsis: 
Note to Self
Love is patient; love is kind.
Love doesn't boast or brag.
There's no arrogance in love;
it's never rude, crude, or indecent-it's not self absorbed.
Love isn't easily upset.
Love doesn't tally wrongs.
Love trusts, hopes, and endures no matter what.
Love will never become obsolete.
I'll fight for her.
Thief
Caleb Drake never got over his first love. Not when he got married. Not when she got married. When life suddenly comes full circle Caleb must decide how how far he is willing to go to get the aloof and alluring Olivia Kaspen back. But for every action in life there is a consequence, and soon Caleb finds out that sometimes love comes at an unbearably high price.
---
AJ says:  Tarryn really has her way on how to get to your heart in the most heartbreaking way you'd be torn between loving and hating her at the same time. Loving how amazing of a writer, she is and hating her on how cruel she can get with making her readers cry their eyes and heart out with every book in this series.
Thief is the last book of the Love Me with Lies series by Tarryn Fisher and this is actually the book in this series that I really loved. I actually loved the flow of this series and how it's been told chronologically.
I like the idea that the book one (The Opportunist)  is more on what happened in the past which gives us the background of Caleb's and Olivia love story from Oliva's point of view. The book two (Dirty Red) is about the present which is told by Leah, a.k.a the villain. And lastly, the book three which is the last book gives us what has happened to Olivia and Caleb's future and also shows us Caleb's point of view from book one and two.
Thief shows us the  bad/manipulative side of Caleb and filled all of the gaps and holes that we've all wanted to know. If this series is a puzzle I would say that Thief is the last piece and what is needed to complete it. This series is one of the most fucked up and dysfunctional love stories that I have ever read but I loved it nevertheless.
From the first book up the last, Caleb and Olivia has a soft part on my heart, that if I could write down how will they end up I would be willing to do it. Even after all of those manipulative schemes and lies they've done, I still wanted to give them the happiness they deserve for enduring every heartache, even if it would mean that wouldn't end up together.
But I really didn't have to do that because after all of those, Tarryn did not disappoint me and gave them the closest of what a happily ever after ending would be for Caleb and Olivia.
AJ's rating: This is the kind of happily ever after that I was waiting and hoping for! Definitely a 5 out of 5 stars!
---