As for the preparation for the sequel release of Air Awakens, the mods of our Air Awakens Street Team/ Air Awakens Goodreads Fan Club came up with the idea of this Affinity tour to know what your affinity would be and to also spread the word and magic of Air Awakens
To find out what's yours, you can TAKE THE QUIZ, Elise created to determine your affinity. And my quiz result is………
Here's an overview of what we #WaterRunners are capable of.
We #Waterrunners are capable of control over water in all its forms, this also means that we do not fear water and we're not afraid of drowning because water can't hurt us. (duh!) (Which also means that I could visit Atlantica and sing Under The Sea with Ariel and Sebastian, or I could play with Nemo or hang out with Spongebob and Patrick at the Bikini Bottom!! There's also the option that I could visit Percy at Camp Half Blood)
We have the ability to command the smallest amount of moisture that makes us practical sorcerers with a variety of applications. We can manipulate droplets of water in the air to make illusions (Are you already seeing the fun here?? This is perfect for the Halloween!!!!)
We  also have the ability to form ice weaponry by conjuring the element if we are forced to fight. (Or I could just join Anna and build a snowman. And build a Snow Palace and be neighbors with Elsa at The North  Mountain, just because the chill don't bother me anyway!!!!)
And because of the fluid nature of our element we are able to feel and observe magical channels in other sorcerers.
And lastly,  Waterrunners Affinity of the Self is our ability to hear the past recorded in items, brought out from the ripples of water. (OMG!!! This makes me think of The Pensieve of Hogwarts!!!!!)
---
There's also a #QWK Bookish Twitter Chat that will be held on the 23rd at 8:00pm EST.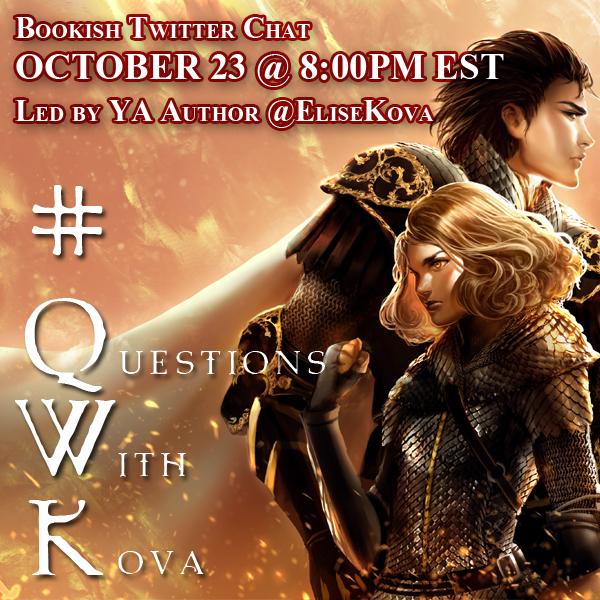 If any of you is interested, Elise is hosting a Pre-FireFalling read along from October 25 to November 15. It will feature deleted scenes, giveaways and many more!!! You could join us HERE