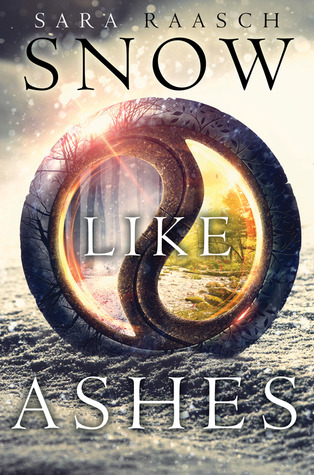 Title: Snow Like Ashes
Author: Sara Raasch
Series: Snow Like Ashes #1
Published Date: October 14th 2014
Publisher: Balzer + Bray
Goodreads Synopsis: A heartbroken girl. A fierce warrior. A hero in the making.
Sixteen years ago the Kingdom of Winter was conquered and its citizens enslaved, leaving them without magic or a monarch. Now, the Winterians' only hope for freedom is the eight survivors who managed to escape, and who have been waiting for the opportunity to steal back Winter's magic and rebuild the kingdom ever since.
Orphaned as an infant during Winter's defeat, Meira has lived her whole life as a refugee, raised by the Winterians' general, Sir. Training to be a warrior—and desperately in love with her best friend, and future king, Mather — she would do anything to help her kingdom rise to power again.
So when scouts discover the location of the ancient locket that can restore Winter's magic, Meira decides to go after it herself. Finally, she's scaling towers, fighting enemy soldiers, and serving her kingdom just as she's always dreamed she would. But the mission doesn't go as planned, and Meira soon finds herself thrust into a world of evil magic and dangerous politics – and ultimately comes to realize that her destiny is not, never has been, her own.
---
AJ says:  
     "All these little pieces combining to create one giant, volatile snowstorm, something beautiful and dangerous and epic. " 
A line I have read in the book that would be the best description for the book itself. Snow Like Ashes is a debut novel of the author Sara Raasch, and it's now on my top favorite fantasy read for this year.
This book is WOW.
It's so great I'm having a hard time to find for the right words to describe how much I liked this book.
The world building is something beautiful that you would really love, it's amazing how flawless, it was created. I loved how the realm of Primora is divided into eight kingdoms, four Season namely Spring, Summer, Autumn and Winter ((Winter's my favorite, just because I want to be called Winterian!!!!) which experience eternal seasons based on their kingdom's name sake.  Four Rhythm kingdoms which cycle through the seasons namely Cordell, Ventralli, Yakim, Paisly. And some of our months were used as main city of each kingdom like Januarri and Abril which is very creative and lovely btw. 
It's something dangerous, some chapters would make you hold your breath and gasp for air for a moment, some are heartbreaking and some would just send a cold chill down your spine. And so as its characters, some are dangerously deadly and I mean this literally, and some are just dangerously hot. (If you know what I mean) My favorite character is Meira and I'm still undecided between Theron and Mather.
It's epic, this book should be known and read by everyone. If you haven't read this book just yet, you really should because Ice Like Fire's coming, soon!!!!
AJ's rating: I give this book a 5 out of 5 stars! This book was just written so amazingly it didn't have a hard time winning my heart over! And I highly recommend this to you whose reading this! Go grab your copy now!