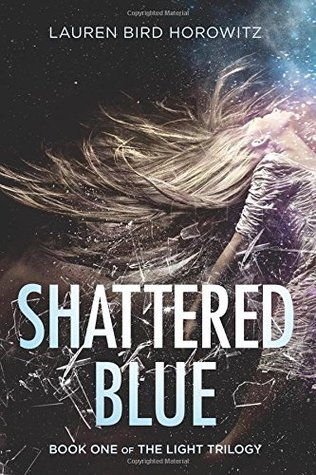 Title: Shattered Blue
Author: Lauren Bird Horowitz
Series: The Light Trilogy #1
Released date: September 15th 2015
Publisher: Skyscape
Goodreads synopsis: For Noa and Callum, being together is dangerous, even deadly. From the start, sixteen-year-old Noa senses that the mysterious transfer student to her Monterey boarding school is different. Callum unnerves and intrigues her, and even as she struggles through family tragedy, she's irresistibly drawn to him. Soon they are bound by his deepest secret: Callum is Fae, banished from another world after a loss hauntingly similar to her own.
But in Noa's world, Callum needs a special human energy, Light, to survive; his body steals it through touch—or a kiss. And Callum's not the only Fae on the hunt. When Callum is taken, Noa must decide: Will she sacrifice everything to save him? Even if it means learning their love may not be what she thought?
---
Aj says:  I stumbled upon this book on netgalley which is where I have also acquired an arc in exchange for an honest review. The description fitted my fantasy only reading session that when I had the opportunity to read this I grabbed it instantly. (The cover is also good, that If I stumbled upon it on bookstore it would pass on my cover buy book list)
After I have finished reading the other book that I was currently reading before this, I was all giddy and excited about how would this book end up. I was kind of disappointed at first because the first few pages were really boring and just a narration of some teenage girl coping up with the death of her twin sister, I ended up being sleepy and stuck on those pages. Because the first few chapters were not very engrossing, I was asking myself if will I ever get to finish this book, hell, I was even thinking of not finishing it at all and just give it a rating of 1 or 2 stars.
But I'm so glad I didn't give up on it and when I continue reading it, I was enchanted by Sasha. I always thought that if Isla's alive, she would be my favorite, but when Noa's character took the spotlight, I abruptly fell in love with the writer and poet side of her. (I especially love the poem about The Lost Girls) But Sasha will always be my number one.
The twist of this story was really unexpected, but turns out to be more interesting and intriguing. I seriously didn't expect that love square from those three, I mean, yes from the very beginning there was already a love triangle but what comes after. Noa. I didn't see it coming. Plus the thing with Sasha!!! (Too much spoiler!)
I loved that this book is divided into parts, three of character's point of view, each part was portrayed beautifully layering and building different perspective and feelings of each character. The Fae-world/myth is quite new to me, but I loved how clearly Aurora's been explained, though there are still some questions left hanging you could still easily follow the trail without getting lost.
Aj's rating: Because of the turn of events, this book makes you crave for more and without a doubt this book a must read for YA readers! I give this a 4.75 stars out of 5
---