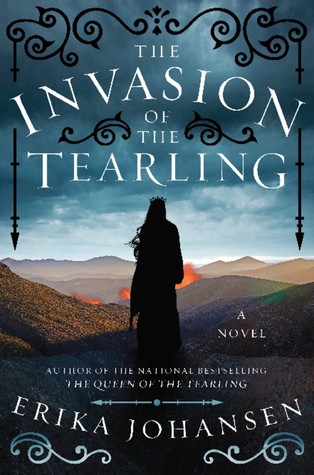 Title: The Invasion Of the Tearling 
Author: Erika Johansen
Series: The Queen of the Tearling #2
Published on: June 9th 2015
Published by: Harper
Goodreads synopsis: With each passing day, Kelsea Glynn is growing into her new responsibilities as Queen of the Tearling. By stopping the shipments of slaves to the neighboring kingdom of Mortmesne, she crossed the Red Queen, a brutal ruler whose power derives from dark magic, who is sending her fearsome army into the Tearling to take what is hers. And nothing can stop the invasion.
But as the Mort army draws ever closer, Kelsea develops a mysterious connection to a time before the Crossing, and she finds herself relying on a strange and possibly dangerous ally: a woman named Lily, fighting for her life in a world where being female can feel like a crime. The fate of the Tearling —and that of Kelsea's own soul—may rest with Lily and her story, but Kelsea may not have enough time to find out.
---
AJ says: The characters have all grown especially Kelsea, she seems braver, she also grows more confident, powerful and even darker though the insecurities are still there somewhere.
I have always thought that this book would focus on the Invasion itself, but I was given a detour in the past through Kelsea's flashbacks through Lily (Which I totally got confused at first! Because I wasn't expecting it) The switching from Pre-crossing and back to the present, which is the Invasion just happens to suddenly I didn't process it abruptly at first.
I have always thought that this one has a medieval setting because of their way of living and the lack of modern technology.  But I was totally wrong since it was the opposite of what I am thinking which was clearly explained throughout the chapters.
It also cannot deny that there are some conflicts that came from our own reality, such as the gender inequality, the corruption of the nobles, the injustice to the poor, rape and discrimination for women.
As the history of Pre-crossing unravels, hints were also given as the story progress which clears some criticism about the worldbuilding from the first book (The Queen of the Tearling)
Sadly, how the magic system and the sapphire works were still not explained. I'm looking forward to knowing what connection does Finn and the Fetch have, and what they did to have such punishment.  Who's the Fetch? What happened after the Crossing? How is Lily related to Kelsea? How did Lily became Tear Heir, who is her father?
AJ's rating: This sequel is superb I'm itching to have and read the next book. I will give this a 4.75 out of 5 stars.